---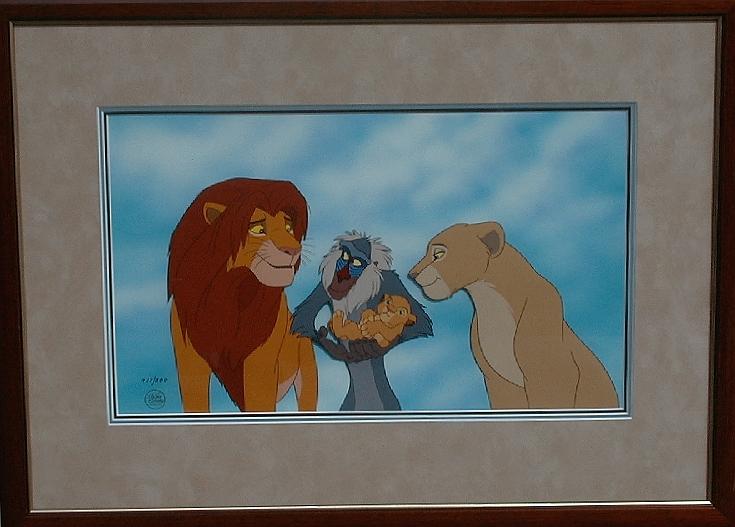 Animation cel of "The Lion King"
The Lion King (411/500)
This is a limited edition of 500 hand-painted character cel set-ups from Walt Disney Pictures' 32nd animated feature film The Lion King (1994). It is one of a series of selected limited-edition, hand-painted recreations of original artwork from Disney animated films.
Disney artists have recreated the artwork from The Lion King using traditional animation techniques. Original animation drawings were transferred to acetate cels by a special six-step xerographic process. Artists of The Walt Disney Studios Ink and Paint Department enhanced the cels with hand-inked lines and hand painted each of the cels in the edition with Disney-approved acrylic colors.
The background scene accompanying this cel is a faithful reproduction of the original, computer-enhanced hand-painted background used in the making of the film. The resulting artwork has been lithographically printed on premium-quality paper by Color Service, Inc. of Monterey Park, California.
The Disney Animation Research Library maintians the origibnal animation drawings and hand-painted background. Conforming to the practice of fine-art printing, the film used to create the background is destroyed when the edition is completed.
Published by Disney Art Editions in 1994, the edition consists of a general edition of 500, numbered 1/500 to 500/500, 50 publisher's proofs, numbered PP 1/50 to PP 50/50, and 25 hors de commerce numbered HC 1/25 to HC 25/25. There are no signed cels. This recreated cel set-up, "Family Pride," is from Sequence 20, Scene 33.50 of The Lion King: Simba and Nala watch as Rafiki cradles their newborn cub in his arms, a continuation of the circle of life.
Asking price 2575 United States Dollars

---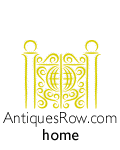 © 1999-2023 AntiquesRow.com Inc.